Creative Graphics Designer Job in Islamabad, Pakistan
Private
This position has been filled
Salary: PKR 20,000 - PKR 35,000
Must have own laptop and an online portfolio.
Centangle Interactive Pvt. Ltd. is looking for a Creative Graphics Designer having at least three years of relevant experience om the industry. The Creative Graphics Designer will work in close collaboration with their Digital Media and Art and Design teams on the creative as well as marketing efforts for Centangle Interactive, Diran Productions, in-house products, and client projects.
As a member of Centangle's Art and Design team, your responsibility is to create high-quality design material so that the brand message of each campaign is well communicated to its intended audiences.
Core Duties and Responsibilities:
Presenting concept visualization through sketches, designs, digital illustrations, 2D/3D animations, and explainer videos.
Designing high-quality original creatives using Adobe products.
Making changes and improvements throughout the design process.
Integrating technical and visual solutions into design concepts.
Understanding trends within the scope of the industry.
Initializing a project by coming up with a general concept or following customer's guidelines and presenting the idea with a rough layout that might include
Evaluating the credibility of designs and providing solutions for possible issues relating to the actual production of this design.
Collaborating with other teams to ensure that prototypes are created within project specifications and expectations.
Planning, managing and executing both in-house and client campaigns.
Crafting the design guidelines and collaborate in branding campaigns.
Planning and creating social media campaigns in collaboration with in-house and outsourced teams.
Editing short promos, documentaries and other video material as part of client projects.
Taking stakeholders on board on through various communication channels including but not limited to email and social media.
Carrying forward the vision of Diran Productions to communicate the client's vision in a creative way.
Collaborating with the production team to execute client projects smoothly.
Advising on the material to be collected and then executing the plan for a yearly showreel of the company.
Helping and participating in the creative direction of in indoor as well as outdoor shoots.
Helping to pitch profitable campaigns to potential clients in collaboration with the business development manager.
Key Skills and Tools:
Familiarity with Adobe Photoshop, Adobe Illustrator, Adobe Premiere Pro, Adobe After Effects and other design tools.
Excellent English and Urdu communication skills.
Ability to handle deadlines and work under pressure.
Be able to understand the dynamics of a digital media industry.
Eager to learn new tools and skills.
Team player and excellent collaborative skills.

The University of Baltistan Skardu offers 5 Masters and 10 Ph.D. Foreign Scholarships
Under the Faculty Development Program, the University of Baltistan in Skardu city of Gilgit-Baltistan is offering inviting applications from Pakistani and AJK nationals for award of Ph.D. and MS scholarships. The selection of the candidates will be made purely on merit considering their academic achievements and their aggregate marks in the HEC HAT test. The scholarship awardee will be required to serve the University of Baltistan, Skardu (UoBS) as a faculty member for a period of a minimum 5-years after the completion of their MS and Ph.D. degrees.
Minimum Eligibility Criteria
Pakistani/AJK Nationals only.
Must have 60% marks or CGPA 2.50 out of 4.0 in the final degrees and with no 3rd division in the entire academic career for the MS scholarships.
Must have minimum CGPA 3.0 (out of 4.0 in the semester system) or first division (in the annual system) in MS/MPhil/Equivalent degree (18-years education) with no 3rd division in the entire academic career for the Ph.D. scholarships.
Maximum age at the closing date for MS scholarships 35 years for candidates working in Government Organizations 30 years for fresh candidates.
Maximum age at the closing date of advertisement for Ph.D. scholarships 40 years for candidates working in Government Organizations 35 years for fresh candidates.
The candidates must have acquired requisite qualifications before the closing date of the application.
The candidates must obtain a minimum of 50 marks in the HEC aptitude test (HAT).
The candidates who are already availing of any other scholarships are not eligible to apply.
The candidates shall be required to follow all the coda! formalities as per HEC FDP guidelines/regulations before leaving for higher studies abroad.
The candidates must obtain a minimum of 50 marks in the HEC aptitude test (HAT).
The candidates who are already availing of any other scholarships are not eligible to apply.
The candidates shall be required to follow all the cod formalities as per HEC FOP guidelines/regulations before leaving for higher studies abroad.
Scholarships in the following Disciplines
| | | | |
| --- | --- | --- | --- |
| # | Discipline | MS | PhD |
| 1 | Sociology | 01 | |
| 2 | Accounting | 01 | |
| 3 | GIS and Remote Sensing | 01 | |
| 4 | Tourism and Hospitality Management | 02 | 02 |
| 5 | Computer Science | | 01 |
| 6 | Biochemistry | | 01 |
| 7 | Business Management | | 03 |
| 8 | English linguistics/ Literature | | 02 |
| 9 | Statistics | | 01 |
Application Procedure
The candidates are required to submit application on the prescribed form available at the University website or from the Registrars office. The following documents are required to be submitted along with the application form:
Attested copies of all educational testimonials.
Attested copy of domicile certificate.
Attested copy of CHIC (National ID card) d) A detailed CV/resume.
Two recent passport size photographs.
Pay order/bank demand draft worth Rs.1000/- (non-refundable) in favor of the University of Baltistan, Skardu as a processing fee.
Candidates who are already serving in Government/Semi-Government/Autonomous organizations should apply through a proper channel having NOC from the current employer.
Notes
All scholarships will be awarded on the basis of open merit.
Candidates must have a final degree in the relevant field of the advertised slot. HEC aptitude test (HAT) will be arranged and conducted by HEC for eligible applicants.
Candidates will have to seek admission in the top 350 foreign universities of the world (QS ranking) by fulfilling admission requirements of the host university.
The applicants are required to indicate the disciplines of the scholarship program on the envelope.
Only shortlisted candidates will be called for test/interviews.
Candidates will only be allowed to secure admission in those international universities/countries with whom HEC has signed MOU/agreements.
After provisional selection, the final grant of the scholarship shall be subject to the confirmation of admission of the candidate in the foreign university and fulfillment of codal formalities (i.e. deed of agreement, etc.) as per HEC guidelines.
Awardees will have to execute a bond to serve in UoBS for a minimum period of five years after the successful completion of their MS and Ph.D. degrees. No request will be entertained in any case to change the service status/job from the University of Baltistan to any other institution during the bond period.
UoBS reserves the right to select or reject applications on the basis of selection criteria approved by HEC Scholarship Management Committee (HSMC).
In case of any omission/misrepresentation, UoBS reserves the right to reject the application at any stage.
The last date for the receipt of applications is May 30, 2020.
Code for Pakistan announces multiple jobs in Peshawar
Code for Pakistan is a non-partisan, non-political organization, which is an IRS tax-exempt 501(c)(3) California not-for-profit corporation, EIN# 47-1458866. Your donation to Code for Pakistan is tax-deductible.
Code for Pakistan is working with KPITB and the World Bank to set up Pakistan's first Digital Services Unit (DSU) in Khyber Pakhtunkhwa (KP). KP's Digital Services Unit is to lead the province of KP into the digital age with a focus on improving digital service design and delivery, and citizen-facing services.
Under the general administrative direction of the Chief Digital Transformation Officer (CDTO), the User research and UX design specialist will plan and conduct user research, analyze data, and propose unique user-friendly experiences for the services designed and developed in the Digital Transformation Lab (DTL), run and managed by Code for Pakistan, under the KP Digital Services Unit.
The Digital Transformation Lab will partner with government departments to modernize digital services across the province. The goal of the DTL is to transform citizen-facing services that are more responsive to citizens' needs. By leveraging technology and digital tools that are most suitable to solve a given problem, the DTL will keep citizen needs at the center of service design and delivery.
Code for Pakistan is announcing the following five positions.
Call for Applications #YouthWagingPeace South Asian Workshop-I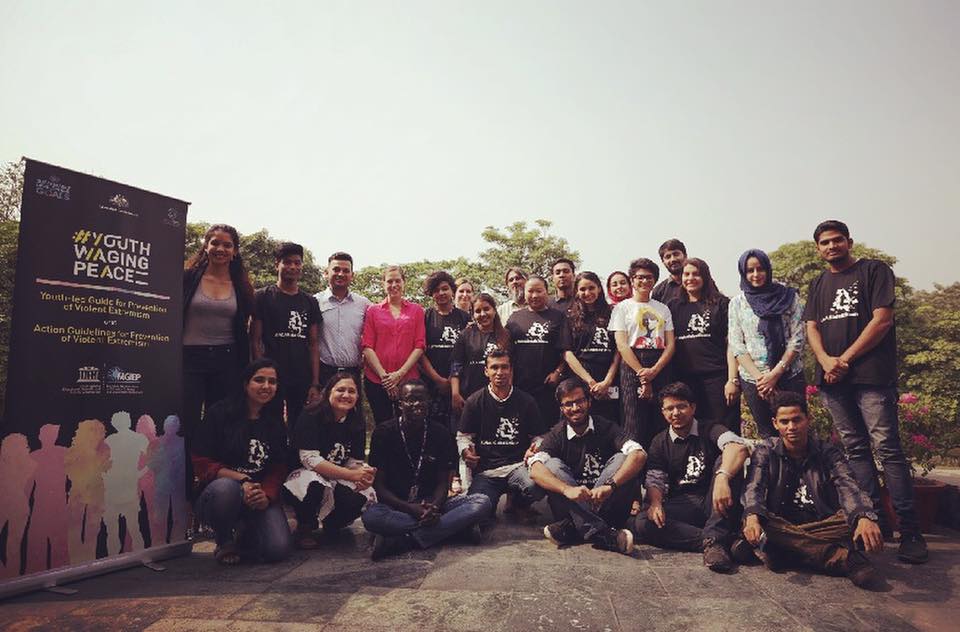 Under the aegis of the Second Phase of #YouthWagingPeace – The Whole of Community Approach to PVE, UNESCO MGIEP, UNAOC and the Sri Lanka National Commission for UNESCO are inviting youth leaders from Afghanistan, Bangladesh, India, Myanmar, Pakistan and Sri Lanka; who are working on the ground to Prevent Violent Extremism through Education for an opportunity to improve their Social and Emotional Skills (including critical thinking skills), Media and information literacy skills and handson project management to curate and implement community wide activities to build bridges of peace and prevent violent extremism in their communities.
When? (tentatively) 10 -15 of February 2020
Where? (tentative) Colombo, Sri Lanka
The following information should help in providing applicants with an overview of the engagement. Please read careful before you apply.
A. Tentative Timelines
25th December 2019: Shortlisting of final 30 youth leaders and reaching out
31st December 2019: Confirmation, Visa letters and flights booking
1 – 30 January 2020: Online engagement
10 -15 February 2020: Intensive Face to Face Workshop
B. Selection criteria
Must be 21-35 years' old
Must be from Afghanistan, Bangladesh, India, Myanmar, Pakistan and Sri Lanka
Must be a Youth Leader (running your own youth-led organization that is legally registered or leading a project/initiative on Violent Extremism within a youth-led organization or your own independent project or initiative that is 2 years old)
The organization or initiative represented must be working in the intersection of the Prevention of Violent Extremism and Education a. Area of expertise: education, conflict, youth engagement and policy, Inter-cultural and interreligious dialogue, gender-based violence, prevention of violent extremism, etc. Specifically, the prevention of violent extremism through education. b. The selection criteria is flexible to accommodate other exceptional young leaders with a proven record of accomplishment (including youth working on religious tolerance, arts for peace, young school administrators, young educators and trainers, etc.)
Active: must be actively/currently involved in the 'area of profession/expertise listed in point no. 3 for at least 2 years, especially, the training or other on-ground engagements with the community or ultimate beneficiary.
Community mobilisation: prior experience of engaging networks of youth and communities in peacebuilding/PVE initiatives. Should have an active network of at least 1000 youth or community stakeholders.
Good research and writing skills (the youth leader must be able to led a chapter on State of Violent Extremism in his or her context)
Good communication and facilitation skills (will have to go and train others!)
Resource mobilisation and fundraising skills 10. Outreach to disseminate the results of the conference and act as multipliers
C. Pre-workshop Online engagement
1-30 January 2020 1. Joining the Tribe: Joining of GYAK and the #KindnessMatters Campaign
(Youth-led) Mapping of Violent Extremism
Online training:

Introduction to Critical Inquiry and the PVE (Rethinking Youth).
Introduction to SEL (Rethinking learning and Rethinking youth/Shankar)
Introduction to Media and Project Management Skills (Rethinking Youth and UNAOC)
D. Tentative 2 Plan of the Face-to-Face Workshop
Day 1
Official Opening
Pre-assessment
Ice-breaking (Getting to know each other)
PVE: A Critical Conceptual Unpacking (Violence and Violent Extremism in my backyard – Community Mapping)
Social and Emotional Learning (Introduction – Mindfulness)
Day 2
Drivers of Violent Extremism
Social and Emotional Learning (Empathy)
Day 3
Media and Violent Extremism
Stocktaking of current PVE Efforts
Action: A New Way of Preventing Violent Extremism (Introduction to the Whole of Community Approach – youth leaders begin to ideate their follow-on activities)
Social and Emotional Learning (Compassion)
Day 4
Action: A New Way of Preventing Violent Extremism (continues – youth leaders work intensively on their activities)
The Shark Tank I (Pitching Follow on Projects by youth leaders)  Substantive feedback
Day 5
The Shark Tank II (Pitching and finalisation of the revised projects)
Post Assessment
GYAK and #KindnessMatters (a way of staying in touch)
Official Closing
Cultural night
E. Follow-on activities
Development of the youth-led report: State of PVE in South Asia (to be published max 3 months after the workshop)
Every youth to implement at least 2 activities reaching out to a minimum of 25 beneficiaries per activity per year (in 2020 – at least 30 activities reaching out to minimum 750 direct beneficiaries)
Periodic monitoring and capacity building online when ready on UNESCO MGIEP FramerSpace environment
Follow on Workshop – August 2020 during WYCK tentatively