Call for Applications #YouthWagingPeace South Asian Workshop-I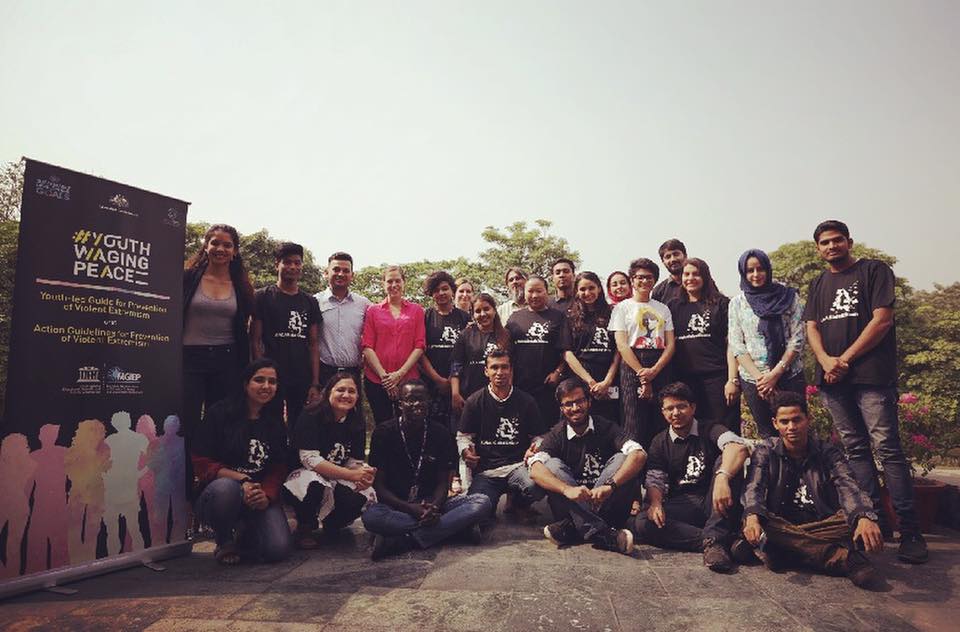 Under the aegis of the Second Phase of #YouthWagingPeace – The Whole of Community Approach to PVE, UNESCO MGIEP, UNAOC and the Sri Lanka National Commission for UNESCO are inviting youth leaders from Afghanistan, Bangladesh, India, Myanmar, Pakistan and Sri Lanka; who are working on the ground to Prevent Violent Extremism through Education for an opportunity to improve their Social and Emotional Skills (including critical thinking skills), Media and information literacy skills and handson project management to curate and implement community wide activities to build bridges of peace and prevent violent extremism in their communities.
When? (tentatively) 10 -15 of February 2020
Where? (tentative) Colombo, Sri Lanka
The following information should help in providing applicants with an overview of the engagement. Please read careful before you apply.
A. Tentative Timelines
25th December 2019: Shortlisting of final 30 youth leaders and reaching out
31st December 2019: Confirmation, Visa letters and flights booking
1 – 30 January 2020: Online engagement
10 -15 February 2020: Intensive Face to Face Workshop
B. Selection criteria
Must be 21-35 years' old
Must be from Afghanistan, Bangladesh, India, Myanmar, Pakistan and Sri Lanka
Must be a Youth Leader (running your own youth-led organization that is legally registered or leading a project/initiative on Violent Extremism within a youth-led organization or your own independent project or initiative that is 2 years old)
The organization or initiative represented must be working in the intersection of the Prevention of Violent Extremism and Education a. Area of expertise: education, conflict, youth engagement and policy, Inter-cultural and interreligious dialogue, gender-based violence, prevention of violent extremism, etc. Specifically, the prevention of violent extremism through education. b. The selection criteria is flexible to accommodate other exceptional young leaders with a proven record of accomplishment (including youth working on religious tolerance, arts for peace, young school administrators, young educators and trainers, etc.)
Active: must be actively/currently involved in the 'area of profession/expertise listed in point no. 3 for at least 2 years, especially, the training or other on-ground engagements with the community or ultimate beneficiary.
Community mobilisation: prior experience of engaging networks of youth and communities in peacebuilding/PVE initiatives. Should have an active network of at least 1000 youth or community stakeholders.
Good research and writing skills (the youth leader must be able to led a chapter on State of Violent Extremism in his or her context)
Good communication and facilitation skills (will have to go and train others!)
Resource mobilisation and fundraising skills 10. Outreach to disseminate the results of the conference and act as multipliers
C. Pre-workshop Online engagement
1-30 January 2020 1. Joining the Tribe: Joining of GYAK and the #KindnessMatters Campaign
(Youth-led) Mapping of Violent Extremism
Online training:

Introduction to Critical Inquiry and the PVE (Rethinking Youth).
Introduction to SEL (Rethinking learning and Rethinking youth/Shankar)
Introduction to Media and Project Management Skills (Rethinking Youth and UNAOC)
D. Tentative 2 Plan of the Face-to-Face Workshop
Day 1
Official Opening
Pre-assessment
Ice-breaking (Getting to know each other)
PVE: A Critical Conceptual Unpacking (Violence and Violent Extremism in my backyard – Community Mapping)
Social and Emotional Learning (Introduction – Mindfulness)
Day 2
Drivers of Violent Extremism
Social and Emotional Learning (Empathy)
Day 3
Media and Violent Extremism
Stocktaking of current PVE Efforts
Action: A New Way of Preventing Violent Extremism (Introduction to the Whole of Community Approach – youth leaders begin to ideate their follow-on activities)
Social and Emotional Learning (Compassion)
Day 4
Action: A New Way of Preventing Violent Extremism (continues – youth leaders work intensively on their activities)
The Shark Tank I (Pitching Follow on Projects by youth leaders)  Substantive feedback
Day 5
The Shark Tank II (Pitching and finalisation of the revised projects)
Post Assessment
GYAK and #KindnessMatters (a way of staying in touch)
Official Closing
Cultural night
E. Follow-on activities
Development of the youth-led report: State of PVE in South Asia (to be published max 3 months after the workshop)
Every youth to implement at least 2 activities reaching out to a minimum of 25 beneficiaries per activity per year (in 2020 – at least 30 activities reaching out to minimum 750 direct beneficiaries)
Periodic monitoring and capacity building online when ready on UNESCO MGIEP FramerSpace environment
Follow on Workshop – August 2020 during WYCK tentatively